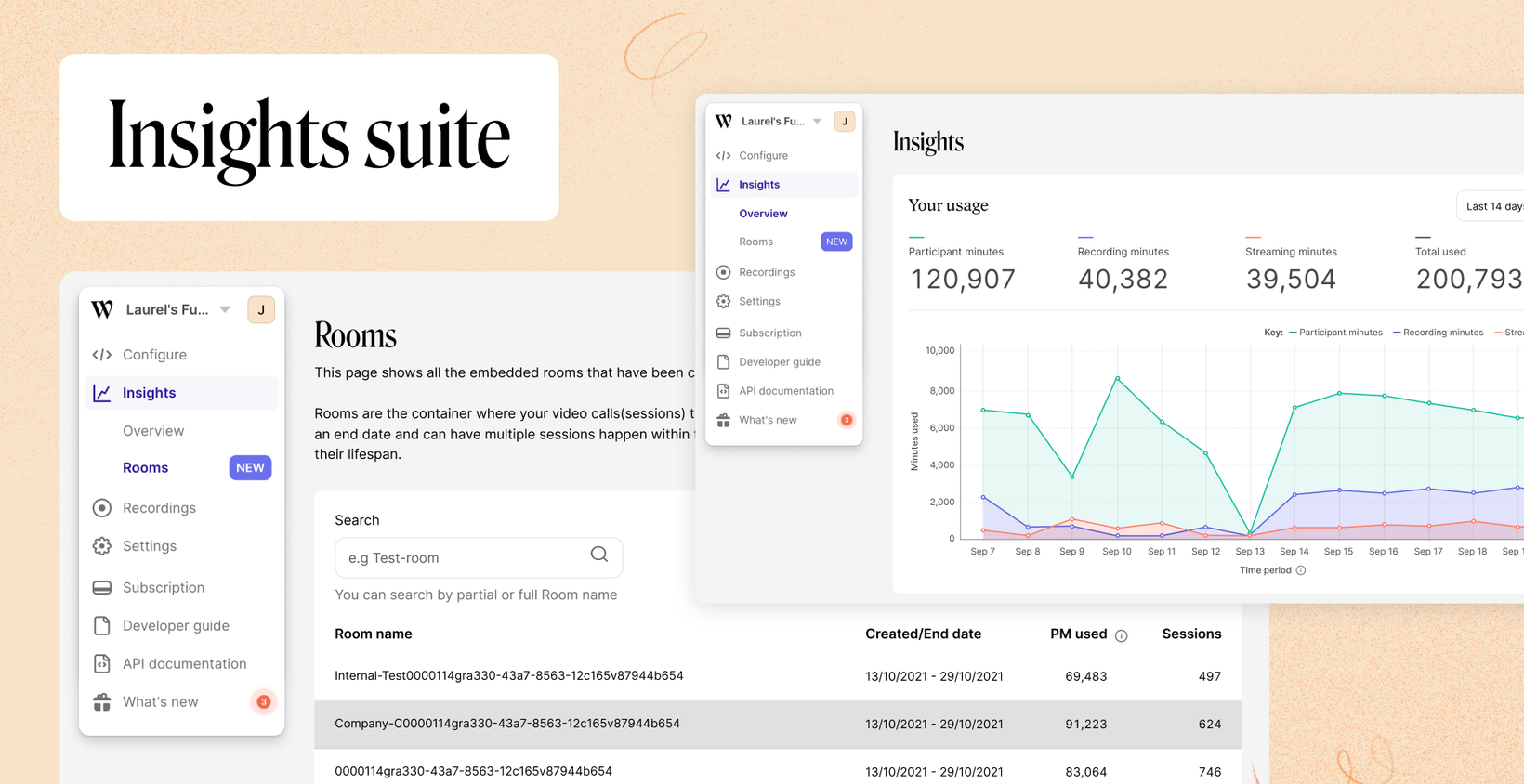 DATE:

AUTHOR:

The Whereby team
📣 Announcements
🚀 New Features
Whereby Embedded
Introducing: Insights Suite 📊
DATE:
AUTHOR: The Whereby team
Having more visibility into your usage data has been one of your #1 biggest requests.
And we've heard your feedback loud and clear.
Because today, we're excited to announce the release of Insights Suite for Whereby Embedded 🎉
Understanding your video usage just got a whole lot easier
From the finer details to the big picture, Insights Suite lets you see more of the video call data that matters most to your business. You can now get a bird's-eye view of key metrics like overall usage data and more detailed insights about Rooms, Participants and Sessions in just a few clicks.
---
Insights Suite Highlights:
Overview Dashboard 📈
Discover trends and keep track of your overall usage with the Insights Dashboard.
Now you can see and understand key usage metrics at a glance - like the total number of minutes you've used, the number of sessions that have happened and how many participants joined those video calls over time.
Rooms Dashboard 🔢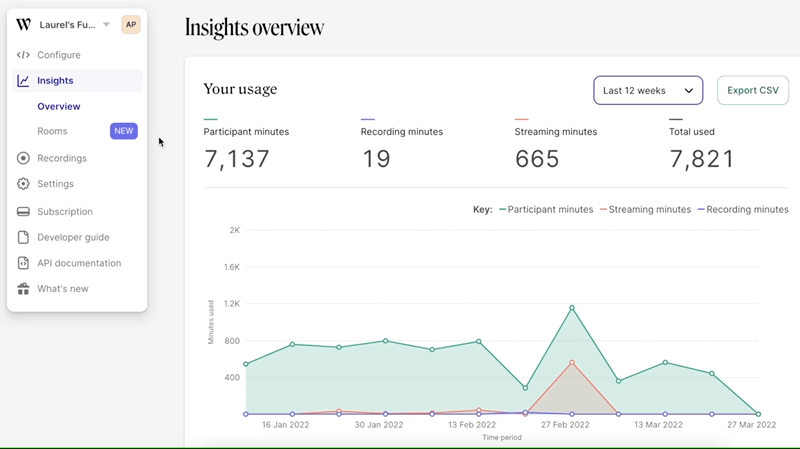 Now you can also explore data for specific Rooms in your account!
This will help you get a better understanding of your customers' usage to see which rooms are being used and how often with access to data like:
A complete list of all rooms that currently exist and have been created in your account

How many sessions have happened per room and the total number of minutes that have been used.
Your admins can quickly filter the list by searching for a specific room name or date range to get the insights you're looking for in seconds.

Click the 'Rooms' tab in your Dashboard menu to access these new insights.
Session Insights 🔎
Inside the Rooms dashboard, you can dive even deeper into Sessions data.
Here you can see all of the individual sessions that have happened within a specific room.
This gives you a more detailed view of every session (video call) like what day a session took place, how long it lasted, how many people joined it and how many participant minutes were used.
Ideal for letting your clients know how many people joined their meetings. Now reporting on your customers' usage will be a piece of cake 🍰.
How Insights Suite makes Embedded even better for you:
Understand your usage easily at a glance. Keep track of your usage in one place and discover trends over time

Bill your customers accurately every time. Get more visibility into how often your customers use video calls and for how long so you can bill them accurately and cover your Embedded costs

Get the information you need, whenever you need it. Access more detailed video insights whenever you want with self-service analytics at your fingertips
---
⚠️ Note: If you have more than one Embedded account (i.e. multiple orgs), you will need to check each account individually to see your overall usage. ⚠️
---
What's coming next? ➡️
There's plenty more to come for Insights Suite. Looking ahead, here's a sneak peek of some new features and insights you can look forward to in the near future.
Insights API endpoints - get access to your video call data and programmatically pull Insights data into your own systems, workflows and applications.
Live session insights - see which video calls are happening in real-time and how many people are in those sessions.
Participant and call quality data - this will let you troubleshoot user issues on your own with ease. You'll be able to see live and historical session data and participant information so you can diagnose and solve audio/video issues faster without having to contact Whereby support.
---
Got questions or feedback about Insights Suite?
Thanks for reading - have a great week 😃
- Team Whereby