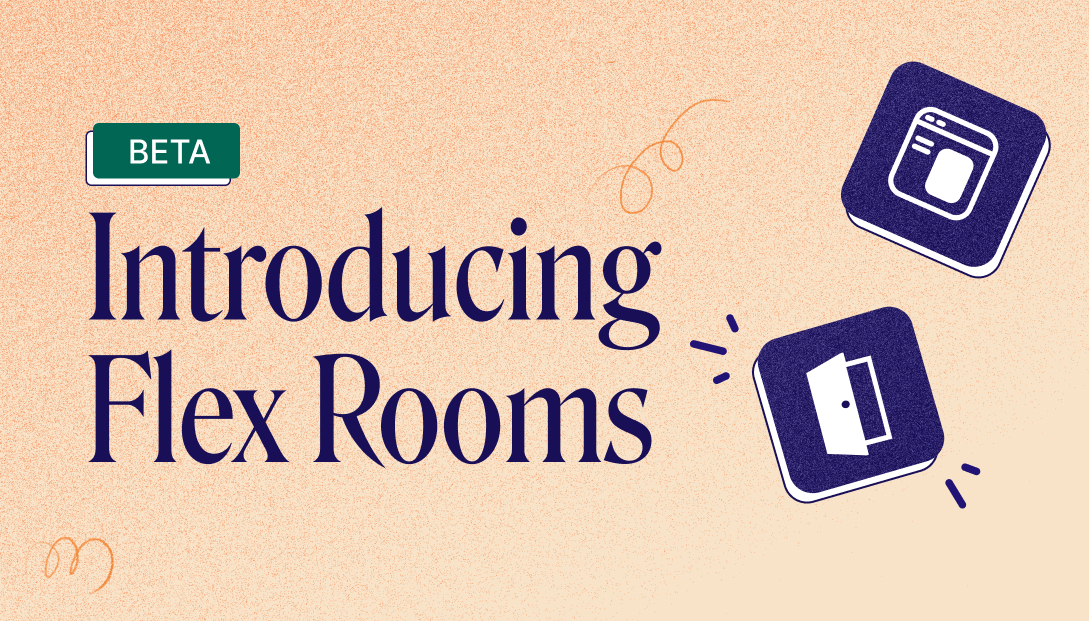 DATE:

AUTHOR:

The Whereby team
🚀 New Features
Whereby Meetings
Introducing Flex Rooms [Beta]
DATE:
AUTHOR: The Whereby team
Want to set up a meeting without a licensed host? Now you can with Flex rooms!
Business customers with user licenses can now create meeting rooms that don't require a logged in, licensed Whereby user present to run the meeting
Last year, we updated our Host Control Policy, to make sure that your meetings are as safe and secure as possible, and to avoid any unwanted guests making use of your Whereby rooms. We stand by these changes and won't be making any changes to how Personal or Shared rooms work. However, we've taken your feedback on board and appreciate that there are some situations where it might not be possible, or convenient, to have a licensed user present.
Say hello to Flex rooms
To give Business customers more flexibility, we've come up with the concept of Flex rooms, which are now available in Beta, for free, to Business plan customers on a plan with user licenses. These new rooms don't compromise on privacy or security, but allow more options for running things like town halls, virtual events or study groups, without a logged-in, licensed host present.
Learn more about the difference between Shared and Flex rooms here
How do I make a Flex room?
Head to the dashboard of your Whereby Business account to get started. There are some more step-by-step instructions here.
You can create as many Flex rooms as you like!
So how does it work?
After you create your Flex room from your dashboard, you will then have the option to copy either a "host link" or a "room link".

Host Link: Send this link to the person (or people) that you want to run the meeting, they will have extra permissions such as letting guests into a locked room and muting participants.

Room link: Essentially a "guest" link. They will need to knock to be let into a locked room and won't have access to some controls in the meeting room. If the room is unlocked, users with this link can enter the room by themselves, even if there is no "host" present.
Please note: Recording is currently not available in Flex rooms, we are working on it and it will be available soon.
You'll notice that Flex rooms have an expiry date. For security reasons, we require you to set an end date to indicate when your Flex room will no longer be needed. The room will be deleted and not usable after this date. This helps to stop any unwanted visitors if your room link gets shared elsewhere after your meeting has taken place.
We hope you enjoy your new, more flexible meetings!
Note: As Flex rooms are currently in Beta, their functionality, design and commercial aspects are subject to change at any time.
---
Got questions?
Thanks for reading!

Have a great week
- Team Whereby