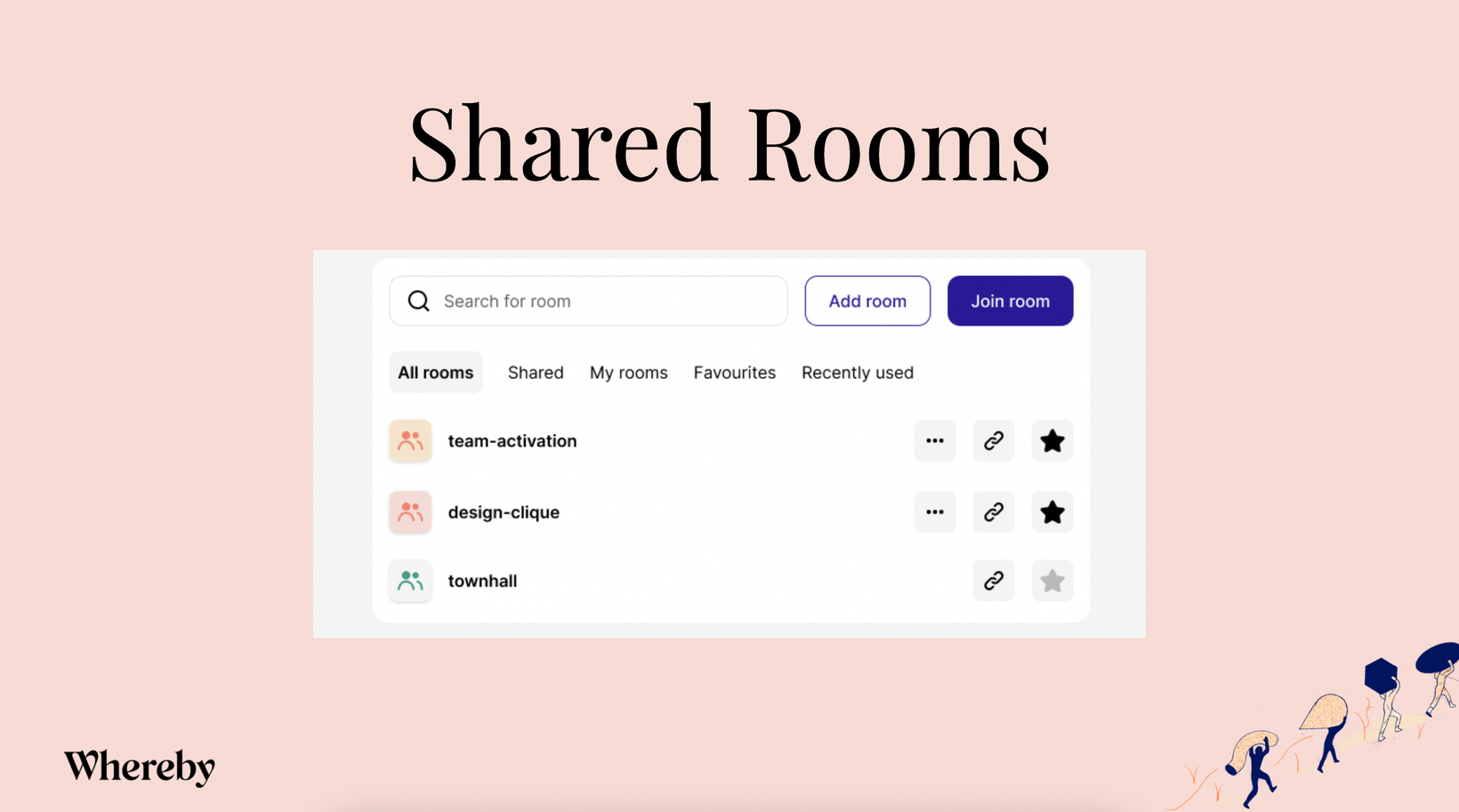 DATE:

AUTHOR:

The Whereby team
🚀 New Features
🔜 Upcoming changes
Whereby Embedded
Whereby Meetings
Shared Rooms (Beta), Connection Quality Indicators
DATE:
AUTHOR: The Whereby team
Shared Rooms, now available to Business customers 👥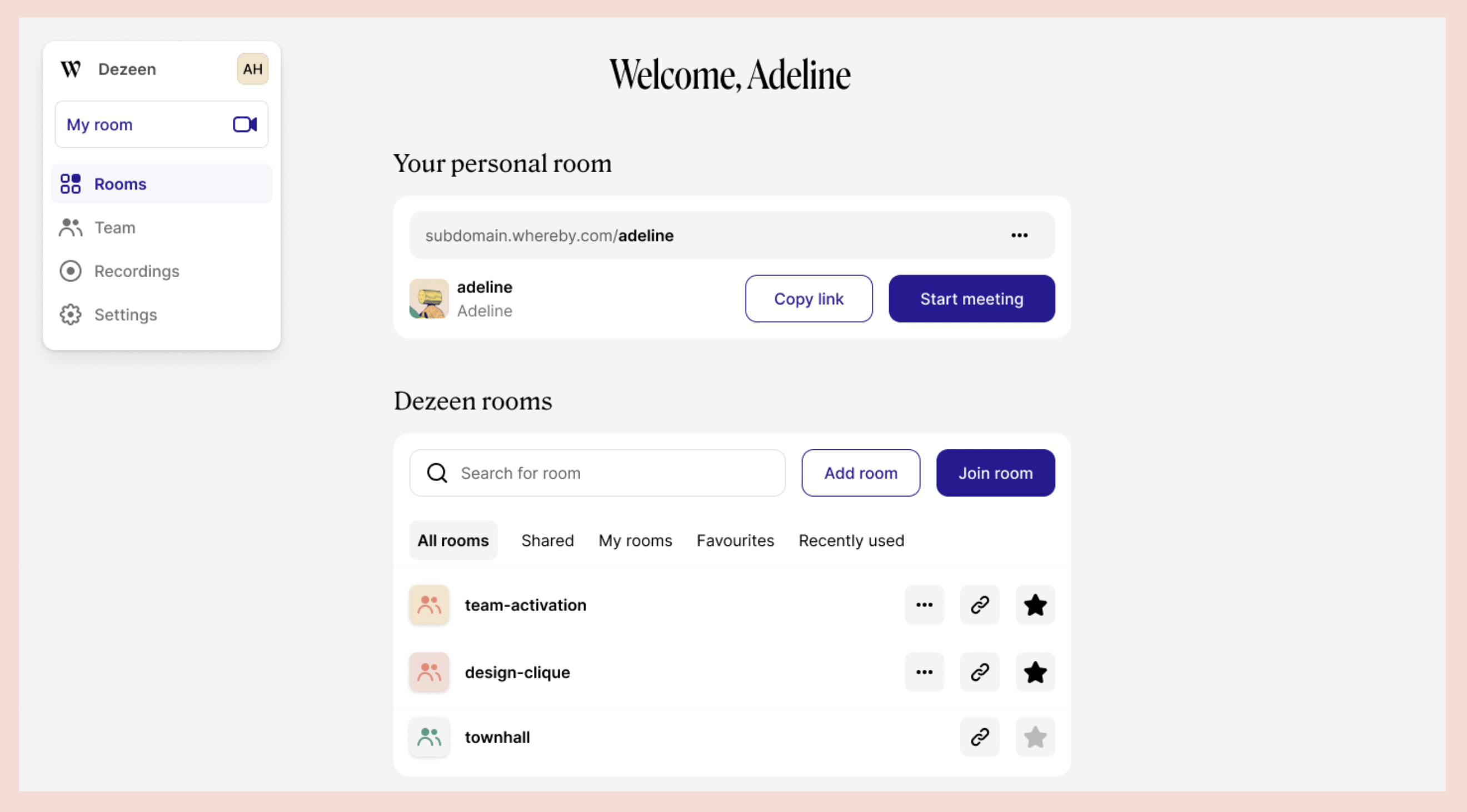 We're so excited to announce the launch of Shared Rooms (a.k.a Team Rooms) in Whereby Meetings for Business plan customers 🎉
In addition to your personal meeting room, you can now create permanent shared rooms that anyone in your company with a Whereby license can join and host.
Any team member can join a call and get started without needing the room creator to be there to let the team in.
Here's why you'll love Shared Rooms:
Controlled access without delays. Now you can create rooms where meetings can be joined and hosted by someone other than the room owner/creator. That means your team members can keep having meetings without waiting around even if the main host can't join the call.

Create multiple meeting rooms without needing to create new individual profiles or user accounts - at no extra cost!

Have different rooms for different needs. Now you've got more flexibility in choosing which room link to share with different people both inside and outside of your company.
Perfect for having internal meetings like regular team catch-ups, daily stand-ups, coffee breaks, or bigger company meetings like town halls.
The best part? You can create as many shared rooms as you want! That's right, you can create unlimited shared rooms at no extra cost 😍.
Connection Quality Indicators 📶

Nothing ruins a video call like a poor internet connection. We've all been there, right? You're halfway through a conversation and then your video goes blurry, the screen starts to freeze and audio keeps breaking up — sound familiar? But sometimes you can't tell if your connection is the problem or not.
With Connection Quality Indicators, now you'll know for sure. These new icons will show up on your video to other participants in a meeting whenever you have a poor or unstable connection.
🔜 Upcoming changes
Here's a sneak peek of some exciting features coming soon:
📷 Background camera effects. Soon you'll be able to keep the focus on you during video calls by blurring your background or replacing it altogether.
🔇 Background noise reduction. This must-have feature elegantly filters out distracting background noise, making sure you'll be heard loud and clear when speaking.
☁️ Cloud Recording (Beta). Huge news! In the next few weeks, Cloud Recording will be available to Whereby Embedded customers. Now you'll be able to record and save video calls to your own cloud storage provider.
startDate changes (Embedded API). Starting on 24 Sept 2021, you'll no longer be required to provide a startDate when creating a transient room via the API. Sending a startDate will not cause an error, but the startDate will be ignored. Transient rooms will be fully functional from they are created. Note: nothing will break if you continue using a startDate.
Get in touch if you have any feedback 👍 👎
Thanks for reading, have a great week! 🙂